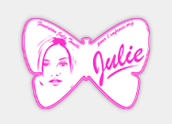 To keep Julie's memory alive, her family decided to establish a foundation combining her two great passions: karting and helping children in need. Her friends, other drivers, have shown their massive support to the Foundation by displaying the well-known pink butterflies, but the "Fondation Julie Tonelli pour l'Enfance" wishes to clarify the framework of such participation. It points out that the Foundation does not solicit any financial contributions and accepts no gifts. Using its own resources, which come exclusively from Julies' family, the Foundation pursues the goal of financially supporting the associations that intervene directly to help sick children or children in need. The Foundation conveys positive values such as respect, generosity and mutual support, which are shared by an ever growing number of kart and car drivers.
These people are identified by the pink butterfly displayed on their karts or cars, or on their helmets or suits. It is the only way to show one's support to Julie and to the foundation that carries her name, by lending credibility to her actions and making them known.
The "Fondation Julie Tonelli pour l'Enfance" was established in 2007, under the auspices of Fondation de France. All the funds provided by the Foundation to known associations are directly and integrally used to help the children mentioned above.
Texte repris sur les Site de l'association .
Une traduction sera apposé en réponse dès que j'en aurais le temps